If you've driven anywhere over the past year or so you may have notice something…
Everywhere you look, there's a lot of construction going on.
Houses are being built like crazy, which means builders need a lot of wood. When the houses are built they'll be filled with furniture – also made of wood.
The challenge for some in the logging industry:
There wasn't a whole lot going on the past few years…
…so you may have sold a lot of your equipment…
… as your business grows again, you may need logging equipment financing options.
Special added bonus: Remember that when you're ready to talk, you may always scroll back up here if you decide you get tired of reading. Click here to get a quote to finance logging or forestry equipment. 
What You Need to Know Before Applying for a Loan for Logging Equipment
Since 2008, not only have a lot of logging companies let go a lot of their equipment, but many have had credit challenges, what with no money coming in and all.
However, if you have any logging experience at all, you know that whatever it takes, it's time to be back in the business, since forecasts are that with the US housing market back to 1 million + homes being built per year and low interest rates expected to continue, the timber industry is expected to be very healthy.  
However, acquiring forestry equipment financing can sometimes be a challenge today, because most computer modeling programs look at the past few years to analyze your risk as a borrower, but the past few years were special.
We talk to people all the time that had perfect histories for 20 years or more, but very few have escaped the most recent recession.
With that being said, what many people who contact us are most concerned about is whether they can qualify for financing for the equipment they need, whether it is excavation equipment, skid steers, or anything else.
What Forestry Equipment Finance Companies Won't Tell You
Beavis and Butthead are funny.
Lying to you about costs to finance or lease forestry equipment…
…not so funny.
Get real rates and payments for your situation
I had a customer recently send me a competitor "proposal" for $112,000 worth of equipment that asked for 2 payments upfront (about $6,500).
That's pretty normal, but what wasn't normal was that the company's proposal:
Quoted a BS rate

Contained misleading language that basically said that if the finance company decided to make the payments higher (which they would have) and the customer didn't move forward,
If the transaction is not approved, the First & Last Payment will be returned to the Lessee, less the reasonable costs for documentation.
 If you're not used to reading these "contracts", you may not realize until it's too late how totally sketchy this sort of language is.
Why, exactly, would anyone send in $6,500 for a transaction that had not yet been approved?
More importantly, who gets to decide what "reasonable costs" means?
If you send someone a check for $6,500 based on being quoted a $3,250 monthly payment and that person comes back to tell you the payment will actually be $5,000, reasonable costs are "zero."
This is a huge problem when you shop for financing.
Some people will tell you nonsense rates and try to get a deposit to force you into a higher payment or risk losing what someone else deems "reasonable costs."
That makes honest financing professionals want to run into these sketchy companies and go all Jackie Chan on them:
The truth is, whether you are looking at rates quoted on a website or hearing unrealistic numbers from a company, if you're not looking at the real rates, it can be pretty hard to shop.
What are the Costs to Finance Logging Equipment if You Have Bad Credit?
One of the things that is really hard to account for in quoting costs to finance logging equipment is that there are hundreds of different scenarios and each could be a little bit different.
Get real info based on your situation 
The easiest rates to quote are is you have perfect credit, or if your credit is unbelievably bad.
If you've got a 400 credit score, you just started your business, and your down payment and/or collateral is zero, your payment will be zero as well, because you're not going to be likely to qualify for financing.
If you've been in business for 5 years and have an 800 credit score, each $25,000 in financing over 5 years will probably result in payments of $575 or so.
Anywhere in between is where it gets stickier.
Here's the basic layout depending on how "risky" you look to a computer: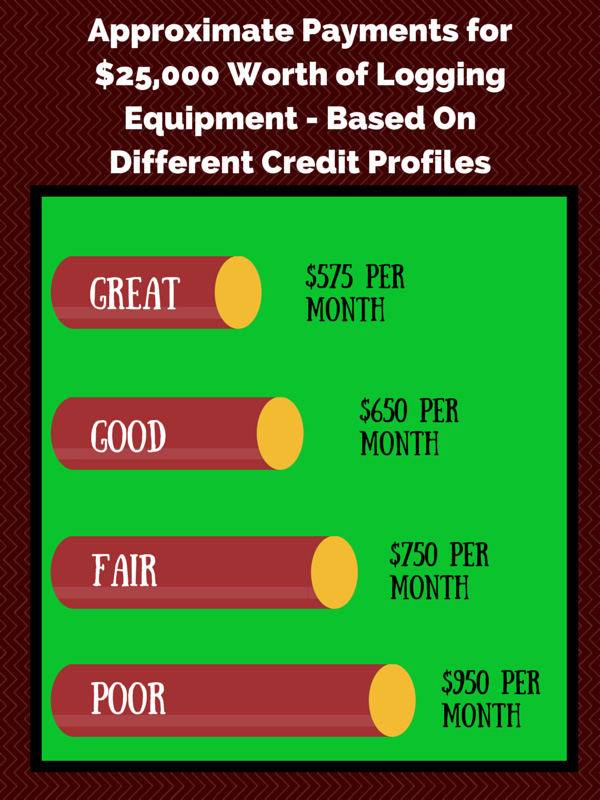 Note that the rates above assume owning the equipment at the end – if you need lower payments, that can often be accomplished by making you pay a balloon payment at the end.
The big question people have after looking at the costs is what it actually takes to qualify.
For owners with pretty good credit, usually it's pretty simple.
You'll get good rates, and you'll qualify.
Often times, 100% financing is available, although sometimes you'll be asked for the first and last payment in advance.
As credit gets worse, the more likely it is we'll have to get creative to lessen the risk to the company loaning you the money.
Getting creative might mean asking for a larger down payment, or for some collateral. If you've got a good down payment or something of value a lender can take if you don't make your payments, you can usually get the equipment you need.
Call us at (866) 631-9996 or click on the image below.