Vicor's (VICR) Advanced Products segment delivered close to 61% sales growth, and the company reports tons of cash in the balance sheet for further R&D or acquisitions. In my view, if OEMs continue to adopt the new technologies designed by Vicor, sales growth will continue at a double digit rate. Besides, if the company enters new markets, and tariffs with Asia don't increase, the share price will most likely trend north. Yes, I see some risks, but the results of my different DCF models imply significant upside potential.
Vicor
Headquartered in Andover, Massachusetts, Vicor designs and manufactures modular power components and power systems for converting electrical power. Vicor's net revenue is geographically diversified. The company sells in the United States, Europe, and Asia. Vicor has two business segments, Brick Products and Advanced Products, which is really what I am interested in.
Keep in mind that Vicor's Advanced Products segment closed the year with $170 million in revenue, 61% more than that in 2020. If the company continues to conduct research and development in this particular business segment, I don't see why revenue growth would stop growing: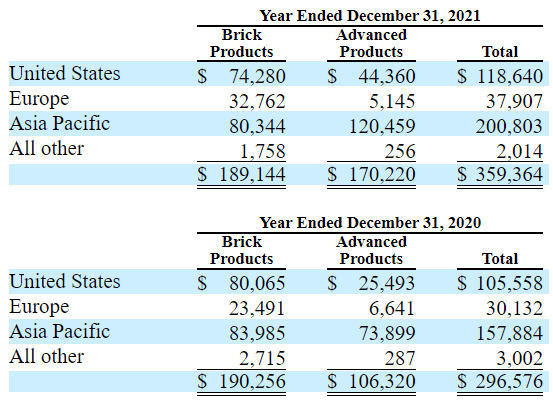 After The Recent Quarterly Release, Revenue Estimates Could Be Better
Analysts are expecting 21% sales growth in 2022 and 36% sales growth in 2023 with a 2023 EBITDA margin close to 39%. Vicor is also expected to report positive net income like management did in the past. 2023 net income is expected to be equal to $143 million: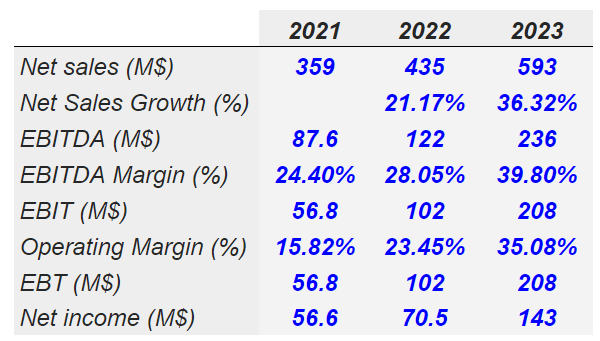 Interestingly, analysts are also expecting a gradual increase in the FCF/Sales ratio, from 4% in 2021 to 17% in 2023. In my view, the fact that capital expenditures are expected to decrease as compared to those in 2021 may help explain the increase in free cash flow:

I don't believe that most analysts had a look at the recent earnings call. The earnings reported missed expectations. However, management gave a few commentaries about the future, which make me a bit more optimistic than most analysts out there.
First, the company announced even more improvements in product level profitability, eventual increases in gross margin, and even more revenue growth thanks to scalability. I wonder whether analysts did take into consideration the following words:
Our focus is directed at bringing our in-house production online in the coming months so that we can fully support the customer base that is driving demand for our products. We continue to work on improvements in product level profitability. Further, we do not anticipate any meaningful increases in operating expenses, while substantial further improvements in gross margin will have to await production from our new vertically integrated factory. We expect incremental revenue to drive earnings per share given the scalability of our operating model. Source: Earnings Call
Management also announced that new clients are willing to buy high performance computing products. In my view, if OEMs and AI start-up companies maintain the demand for Vicor's products, revenue growth will likely trend north:
Established OEMs and several well-known and well-funded AI start-up companies, having introduced initial relatively low current AI platforms, are now planning AI-A6, with currents approaching 1,000 amps and a turn to Vicor's lateral and lateral vertical power solutions. Our customer portfolio in high performance computing continues to grow. Source: Earnings Call
There is another key driver for revenue generation. Vicor recently identified new target markets in the light electric vehicles, robotics, battery test equipment, and UAVs industries. If management successfully enters the new markets, revenue growth will likely increase more than expected:
Due to the rapid electrification and autonomy trends with both — within both existing and emerging industrial markets, we have identified an additional $2.5 billion of available market in the next five-years, across market segments such as light electric vehicles, robotics, battery test equipment, and UAVs. Source: Earnings Call
Finally, in my view, the most relevant in the earnings call was the fact that Vicor mentioned new customers in the satellite communications market for 2022. With this in mind, I would pay a lot of attention to the new quarterly earnings reports. If management discloses the name of large new clients, the share price could increase:
In one of these markets, satellite communications, we have made advances with new customers and our opportunity pipeline outside of our lead customer, Boeing, is beginning to grow. We are excited for what lies ahead of us in 2022 and beyond given the major dislocations occurring in numerous large end markets. Source: Earnings Call
Balance Sheet
Vicor's asset/liability ratio is equal to 9x, and management reports $182 million in cash and short-term investments worth $45 million. With these figures, I believe that management will likely have financing to enter new markets, invest in marketing, and design new modular power components and power systems: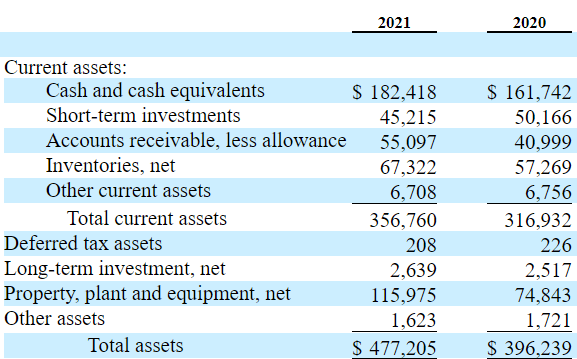 It is quite beneficial that the company does not report a considerable amount of debt or contractual obligation. In my view, if the company needs financing from any bank, management will most likely receive it: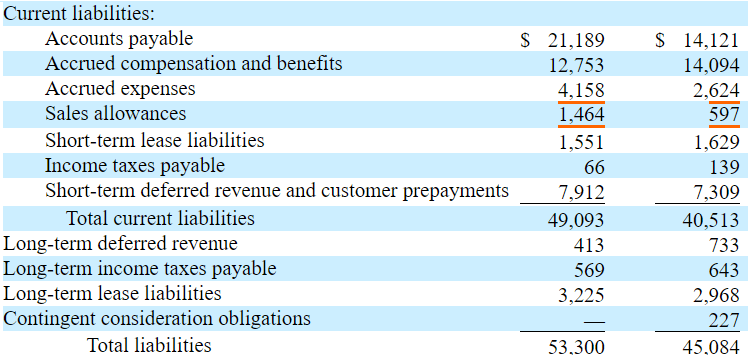 DCF Model With Successful Design Of New Advanced Products And Acceptance By OEMs
Under normal conditions, I expect that management will successfully offer new products to its existing customer base. Besides, I also expect Vicor to successfully obtain new customers in existing markets and in the robotics, battery test equipment, and UAVs sectors.
If Vicor delivers new advanced products, they are accepted by OEMs, and clients also design new models, revenue growth will most likely trend north. Notice that management discussed clearly that the company's revenue will grow mainly if new products are developed:
Our growth is therefore dependent on: the pace at which these OEMs and ODMs develop their own new products; the acceptance of our Advanced Products by these OEMs and ODMs; and the success of the customers' products incorporating our Advanced Products. Source: 10-k
With regards to new innovations, I am especially interested in the vertical power delivery technology, which the company expects to deliver to customers in 2022. If Vicor is successful, we can expect 2022 revenue growth to trend north:
Vertically-mounting the solution allows unrestricted access to microprocessor input/output I/O pins on the top side of the motherboard, thereby improving I/O speed and memory access, which are a priority for GPUs and AI ASICs in AI applications. We are in the final development stages of our vertical power delivery solutions and expect to be shipping released products to customers in 2022. Source: 10-k
Given the previous conditions, I included sales growth around 21% and 37% from 2022 and 2025, which should imply 2025 sales of $1.113 billion. With an EBITDA margin of 39%-40%, 2025 EBITDA should stay close to $441 million:

If we remain very conservative and use tax of 22%, 2025 NOPAT should be equal to $308 million. I also assumed very small changes in working capital and capital expenditures close to $31 million, just like other analysts did. The result is an FCF that should grow from $70 million in 2022 to $326 million in 2025. If we also consider the cost of equity of 8.9% and a beta of 1.16, the WACC should stay close to 8%-9%. Summing both the terminal value with an EV/EBITDA multiple of 12x and the DFCF, and dividing by the share count, the implied price is equal to $101: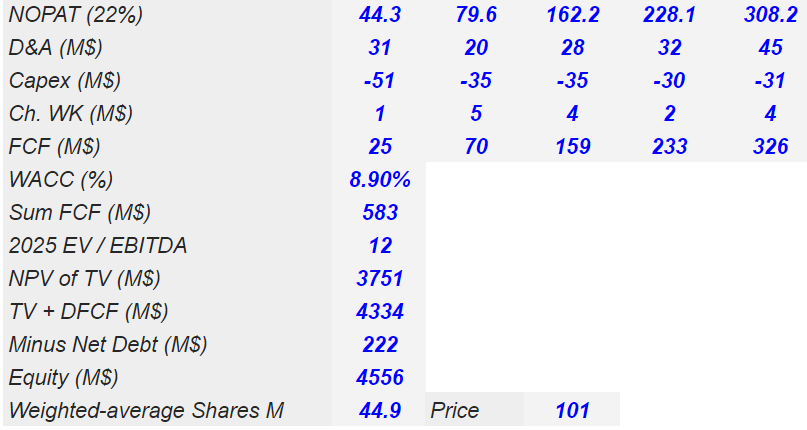 Superb DCF Model Would Come From A Wave Of Consolidation And Acquisitions
With a lot of cash in the balance sheet, I really wonder whether Vicor would be interested in acquiring smaller competitors with valuable technology. If they don't distribute the cash in hand to investors, I believe that they may be preparing something. The company merged a subsidiary a few years ago. However, I didn't see Vicor very interested in mergers and acquisitions. With this in mind, this case scenario would be a bit less unlikely than the previous one:
On June 28, 2019, the Company's Board of Directors unanimously approved the merger of VI Chip, a subsidiary of Vicor that was fully consolidated for financial reporting purposes, with and into the Company. The merger was completed as of June 28, 2019, at which time the separate corporate existence of VI Chip ceased. Source: 10-k
I included net sales growth of 37%, an EBITDA margin of 40%, and operating margin of 35%, which resulted in a 2025 EBIT close to $390 million. If we also assume a WACC of 5%, because the cost of equity decreases significantly, and exit multiple of 20x, the implied share price would equal $180: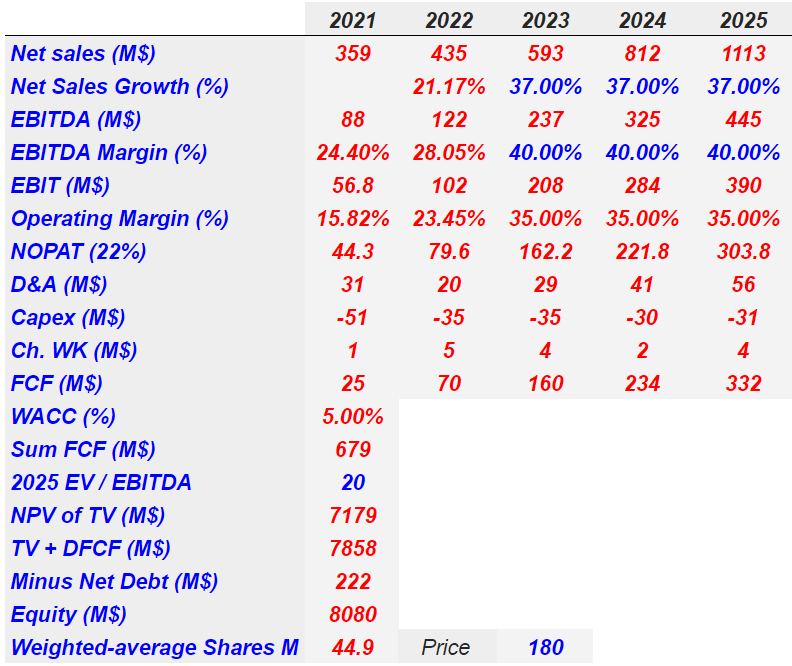 Risk Factors From Tariffs, Malware, And Lost Of Large Clients
In my view, the worst thing that can happen to Vicor is an increase in the tension between China and the United States. An eventual increase in tariffs could significantly push Vicor's revenue growth down. Take into account that management expects significant sales from Asia, but costs associated with tariffs are already quite significant:
For the year ended December 31, 2021, costs associated with tariffs totaled approximately $6,678,000, a decrease of 8% over the $7,259,000 in costs incurred for the year ended December 31, 2020. We continue to assess the impact of these costs and are actively evaluating alternative sources of raw materials. Source: 10-k

We continue to evaluate alternative sources of raw materials, and in 2020 and 2021, we qualified non-Chinese vendors for certain high-volume raw materials and components. Source: 10-k
The company has already disclosed ransomware and other forms of malware. I am not really worried because clients didn't seem to be complaining about Vicor's products. However, in the future, if a significant number of customers report malware or hackers steal information from clients, the damage to Vicor's reputation could be detrimental. If clients start leaving the company, revenue growth may diminish:
On December 24, 2019, elements of our network were compromised by a form of malware referred to as "ransomware." Subsequent analysis by management and the forensic specialists we retained allowed us to conclude the incident had no material impact on our operations, financial condition and performance, or the integrity of our financial reporting systems. Source: 10-k
If new research for modular power components is not successful, clients may not buy Vicor's products. Under the most terrifying case scenario, I would expect sales growth of 5% from 2023 to 2025, and 2025 FCF of close to $180 million. Using a WACC of 15% and an exit multiple of 10x, the implied stock price would equal $46:

My Takeaway
With a solid balance sheet and cash in hand, the most impressive feature about Vicor is its Advanced Products segment. If this segment continues to deliver sales growth, R&D activities are successful, and OEMs accept the new technology brought by Vicor, the share price will likely increase. Under my best case scenario, I obtained a valuation of $180 per share, which also includes further consolidation of subsidiaries and acquisition of technology from other competitors. While I see some risks, in my view, the stock remains a buy.