Automating production is a lot easier in manufacturing than in construction—particularly in a make-to-stock environment. In construction though, which is characterized by one-off projects with processes and workflows that can vary from one project to the next, remote and changing work environments and rustic conditions, technology to reduce the labor component of projects with automation is having its moment in the sun.
Why now? As-a-service business models, cloud technology and dropping prices for edge computing devices are all factors. According to McKinsey, another factor may be an influx of venture capital cash for construction technology as a whole—up to $25 billion from $8 billion in the five years leading up to 2019. McKinsey also posits that the COVID-19 pandemic was a catalyst for contractors adopting digital collaboration and process digitization, not only to enable remote work but to help deal with a more competitive bidding environment.
While venture capital investments and contractor adoption of technology for back-office processes like estimating and project management represent a significant portion of the market, more of the construction tech offerings coming to market and being proven in the field operate at the tip of the spear—in production of value against project deliverables. Innovations in how technology is sold, including as-a-service business models now common in software, are also helping robotics come to market more quickly as risk-averse contractors can get automation and robotics on their projects without a capital expenditure.
Most construction automation and robotics offerings address very specific tasks performed at high enough volumes to make automation viable. Having a use case that fits these capabilities will be more important in determining whether robotics and automation are a fit for your contracting business than company size, as the technology is becoming more affordable, with some options aimed directly at the small to medium enterprise.
From full autonomy to innovative machine guidance options, here is a look at what contractors can invest in now, what products and companies have strong financial backing and what is coming in the future.
Construction Robotics and Equipment Automation
Harnessing mechanization, artificial intelligence (AI) and the internet of things (IoT) to speed up, lower cost and improve quality of construction can take several forms. And there are slight differences between the concepts of construction automation and construction robotics, according to industry expert Dr. Mohamed Abuali, Managing Partner and Chief Evangelist of the AI and automation consulting organization IoTCo, LLC.
"In my line of work, automation is the umbrella concept," Abuali said. "Automation has several sub-disciplines. Robotics is one of them. Automated guided vehicles (AGVs) may be another. But in other industries we see a lot of different use cases coming to market including spot welding, ultrasonic welding, materials handling and cobots—collaborative robots that are helping humans do their work."
Robots gain functional autonomy as they become more sophisticated across several layers of their tech stack, according to Abuali.
"There are usually two or three layers that would help the autonomy of the robotics," Abuali said. "The first layer is sensing—so machine vision, LIDAR and other data ingestion pathways that would allow autonomous vehicles or robots to sense and understand their surroundings. The next layer is the analytics layer. This is the source of intelligence—hardware and software systems on the robotic automation system. This layer uses the data from the sensor layer to make decisions. Finally, we have the infrastructure layer around connectivity. Does the technology have access to 4G or 5g, or is that not available and you need to rely on satellite communications? And then the pan-algorithmic hardware and software layer to make decisions."
In some cases however, as in Trimble's Jobsite Connectivity Bundle and Earthworks Grade Control Platform, robot technologies like self-steering equipment, automated grade and control become part of an overall automated workflow—with robotics as Abuali describes becoming a subset of the automation discipline.
3D asphalt paving and earthwork application suites from companies like Trimble, Leica and Topcon may be examples of robotic technology that automates the height of a screed, steering, width control and volume of asphalt necessary to reach the requisite level at the required degree of density. But that robotic paver is only one step in an overall automated process that can include automated 3D compaction, logistics and dispatch of material, optimized handoff from one total station to another for uninterrupted GNSS signal and to avoid stops that create disruptions in the pavement that must be ground out later.
Construction Robots on the Ready
In construction automation, some robots add value to existing pieces of equipment. Built Robotics, for instance, sells an exoskeleton technology that seeks to make earthmoving equipment autonomous. The company is focusing the product on repetitive tasks however, most notably trenching for infrastructure projects in greenfield settings like solar farms. And the equipment is currently accompanied by a consultant from Built Robotics. Technology like this, which must deal with rapidly shifting conditions on site from obstructions to soil conditions, will need to get smarter over time to be more fully autonomous.
"On the analytics side, when it comes to fleets of robotic and automation systems, if there is access to data on a fleet level from similar types of assets, fleet-based analytics would make it possible to re-baseline algorithms," Abuali said. "That way, you can use one failure to improve the models, call it a global template of the fleet. You can then create a fault library and start predicting failure on another excavator. You can aggregate that data and have a fleet level model—and this will be better than creating a baseline for one machine."
Perhaps the most highly visible example of construction robotics is Spot the Construction Robot, a joint venture between Trimble and Boston Dynamics. Here, the wow factor may come not from the productive capacity of the robot, but the stunning quadrupedal locomotion, which makes Spot a robot function not as an android that emulates man but as a robot that imitates man's best friend. Trimble augments Boston Dynamics' robot with the Trimble X7 Laser Scanner to collect accurate point cloud information and 3D imagery to augment CAD/BIM models, the Velodyne LiDar Puck.
"I spent a lot of time at Boston Dynamics—but I started as a customer in the construction space," Boston Dynamics Product Manager Brian Ringley said. "I saw the potential of a quadrupedal device that can deal with stairs, gaps in the floor and the autonomy features that allow that to be done without human labor. Trimble layers software and hardware onto Spot for a full product solution."
Currently, Spot is being used on construction sites for data capture, walking a set path on a site and capturing photogrammetry and LIDAR data from precisely the same location each time. This makes Spot part of an overall automated process in addition to an autonomous device walking around a construction site.
"We are also looking at equipping Spot with laser scanners, 360 imaging and robotic total stations and GNSS antennae – opening up new workflows for different types of data capture," Ringley said. "The benefit is automation and repeatability. The transformative value is repeatable data capture without consuming labor hours—it completely transforms how you do scans. It provides a way to automate project management itself—with automated quantification of work in place. From here, we can drive subcontractor payment systems, required safety audits—the potential is incredible here."
COBOD International



Construction Robots-as-a-Service
While Spot roams construction sites to collect data to support project management and as-built recording, Gecko Robotics deploys wall-climbing robots capable of inspecting infrastructure including process chemical tanks for wall thickness, pitting and other types of degradation. In total, technologies involved include rapid automated ultrasonic testing, rapid ultrasonic gridding, tri-lateral phase array and phased array ultrasonic testing.
According to Gecko Robotics Business Development Manager Quinn Holub, the company is using its robot technology to drive value across a built asset lifecycle.
"Here is one fascinating example," Holub said. "We are doing a quality control project for some offshore wind farms in the Netherlands, robotically inspecting the welds on the piles that hold the fan up. By bringing robots into the problem, we can create a file of every centimeter of weld. This accomplishes more than making sure the quality is good. We can also compare the weld imaging against how the welds look 30 years down the road—to see if damage was missed in quality control stage that is contributing to degradation over time."
The Gecko robots depend mostly on ultrasound to measure the thickness of metal down to a thousandth of an inch to digitize the asset integrity management process.
"Wall loss through corrosion or erosion—that is one of our specialties," Holub said. "It lends itself well to automation. We are also able to inspect welds where we can scan the weld, make a map of it and create a digital twin of the asset."
Gecko robots work quickly and reliably, completing one recent project of 1,000 feet of pipe 20 feet off the ground in four days—versus the four-week timeline associated with a manual inspection. This speed also comes without scaffolding or risk of working at height. But take note—the equipment is not for sale outright. Gecko uses its technology through a turnkey inspection services delivery platform.
Other construction robotics offerings come on a subscription, either annually or per-project—Built Robotics will rent either an exoskeleton or an excavator equipped with an exoskeleton. Advanced Construction Robots rents its TyBot rebar tying robot for a specific project, with the cost being based on the number of ties completed. Dusty Robotics, provider of robotic site layout printers, offers their robots on a subscription the enables a customer to use them on as many projects as they like.
Even equipment manufacturers that will sell equipment outright, like 3D concrete printing equipment company Black Buffalo 3D, are also seeing the value in leasing so contractors can run a successful proof of concept or pilot project with this emerging method of building. COBOD, perhaps the market leader in 3D printing with 50 machines sold at the time of our briefing in April of 2022, was just getting started with financing options but had not explored leasing. For a number of reasons, other 3D concrete printing equipment companies ranging from SQ4D and Diamond Age are keeping their technology to themselves, using it only on their own residential projects.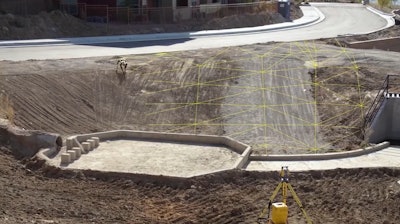 Capital Flowing into Construction Automation
Even with venture funding becoming tighter, construction robotics and automation companies with current funding and new infusions of venture cash will continue to push the fruits of their research and development efforts to market.  
Arcure, which offers the Blaxtair pedestrian detection system that can also slow or stop a piece of construction equipment or stop the turret of an excavator from hitting a pedestrian with the bucket, has received its first round of funding in 2014 but secured a convertible note in May of this year.
Built Robotics scored $64 million in Series C funding in April of this year, in addition to earlier rounds totaling $48 million.
Dusty Robotics announced a $45 million Series B round in May.
Teleo in June received $12 million in a Series A round to fund its work to turn construction and heavy mining equipment into semi-autonomous robots.
Venture funded Propeller Aero, which received $18 million in Series B funding in 2020 for its drone-based site data capture tech, is expanding into data capture for earthwork with the Dirtmate survey-grade GPS receiver that automates capture of daily volumes, cut/fill heatmaps and progress-to-design measurements.
Construction Robotics, with its lift-assist robot Mule and SAM, which is short for semi-automated mason, received $2.5 million in the spring of 2021, in addition to earlier grants totaling $900,000.
Venture funding is only one option for tech companies intent on driving automation and robotics deeper into construction. COBOD in May of this year announced that GE Renewable Energy had taken a minority stake in the company. Nonprofit SRI International is an example of reverse approach to any of the above in that they develop the technology first and then spins it out through technology transfer, including a new tech that enables operation of excavators through either a remote control box or simple hand gestures.
"This is one of the directions excavation in construction will be taking in the future," Reuben Brewer, senior robotics engineer with SRI International said. "This will not be something that is released next year. The idea is to have a system that enables you to operate the excavator while not physically on the excavator. You may want to turn a multiple person crew into a one may crew—so the operator can come out of the cab to take different measurements of the hole while operating. Or, using this technology, someone can dial in from a different construction site."
Remote operation could solve one of the barriers to increasing productivity of operating engineers. Excavators often sit idle as digging stops and other tasks are undertaken at the dig site.
"If you have an excavator operator at a remote site, if work is paused at one site, they can dial into a different job site and start digging there."
Technology for remote operation of equipment classes like excavators, skid steers and track loaders is not new—Cat Command probably leads in this space. SRI's technology augments this with human detection, a 360-degree camera and an immersive virtual reality environment that enables an operator to see peripherals areas of the site by turning their head.
"The virtual reality component is essential," Brewer said. "When we first started, had dumpsters we were digging rock from, taking rock from dumpster A and putting it in dumpster B. Without the head set, we were missing the dumpster entirely 50 percent of the time. From 50 feet away, we did not have depth perception to do it properly. You put on the head set and suddenly it is a 100 percent success rate."
A bounding box function also poka yokes the digging process and, regardless of whether a remote operator is using a joystick control box or SRI's hand gesture technology, the excavator will not allow the operator to dig beyond where prescribed.
The ability to direct the digging with a wave of the hand, using the hand like a scoop to indicate the digging motion, is more intuitive than existing controls, particularly for those new to operating.
"The ability to follow the hand is something that helps get new operators up to speed addresses the labor shortage," Brewer said. "When they get in the machine, operating the bucket with the controls is a left-right pattern and the brain cannot remember that because the boom goes front to back. We figured out a rolling pattern for the boom and the bucket. Working with a group of new operators with traditional controls, most could not scoop gravel off the ground. Five minutes in with our system and they were scooping and taking material from point A to point B. They were digging nicer-looking holes and not missing piles of dirt. If they were experienced operators but had not dug for a few years, the hand gestures were still more intuitive."
Another way construction robotics companies secure resources to drive product development and beef up their ability to deliver is acquisition by larger entities. This is the case with TinyMobileRobots, which delivers roadway pre-marking robots that reduce man hours and project timeline consumed by surveying and marking the location of lane markers. The company in February received an equity investment from Stihl. The company plans to take advantage of Stihl's supply chain heft to drive down cost for its component parts and ride with Stihl's distribution arm into new markets like South or Middle America and in Eastern Europe. They are also exploring additional use cases including premarking layouts on slabs in large floor spaces like warehouses.
Small Contractor Automation
Unicontrol, meanwhile, secured angel investment in the form of soft money loans from its own ownership and a 2020 round from angel investors. Using these financial resources, they are putting advanced machine guidance into the hands of smaller contractors who may be unable to afford or struggle to operate more fully-featured automation technologies from major manufacturers. While Unicontrol technology does not mechanize production per se, it simplified the operator's job. A series of sensors on an excavator collect data on pitch/roll, boom, stick tilt and bucket position. A dual GNSS box and antennae helps Unicontrol orient the excavator. Data from all of these sources is ported to an Android tablet in the cab that houses design files, combined with data on work that has been produced against the design.
Designed to come in at about half the price as machine automation solutions from established North American players, Unicontrol will help contractors document their work for application for payment and as-built submittals. The technology will also often eliminate the need for a flagman or surveyor while reducing fuel consumption and rework. Even a one-person excavation company running the machine guidance system on a single machine could increase productivity by 30 percent, according to Unicontrol Chief Commercial Officer Ehsanullah Ekhlas. But by leveraging Unicontrol Cloud, which captures data from equipped machines, the technology can also become part of an automated workflow that shares projects between connected machines.
Similarly, Dirtmate, Propeller Aero's offering for ground-based vehicles feeds elevation data and operating hours, into the Propeller Platform, which unites data from multiple drones or pieces of equipment into a single version of truth. Dirtmate combines a survey grade GPS receiver that sits on each earthmoving machine to capture elevations to build a 3D model while capturing hourly and daily quantities of production.
A Boom Time for Automated Construction Production
While original equipment manufacturers (OEMs) have made impressive strides towards autonomy, aftermarket technologies, including those from young and vital companies, may penetrate the market faster. Even leaders like Trimble, Topcon and Leica are coming in primarily as aftermarket solutions, albeit with OEMs often making allowances for mounting and provision of power in their designs. This means each contracting business can set and execute their own automation and robotics strategy.
The time for construction contracting firm owners to immerse themselves in what the technology offers is now. Be sure to register and explore the growing set of research materials on IronPros to help you do the due diligence required to successfully adopt current technologies like GPS machine control, IoT and robotics.