Several partnerships, investments and mergers and acquisitions have taken place in the construction industry in recent weeks. Here is a roundup of what's new:
Cojali Announces Partnership
Cojali S. L., a developer of all makes diagnostics equipment and other technological solutions and components for commercial vehicle, has signed a contract with Knorr-Bremse, a braking systems provider and a supplier of other rail and commercial vehicle equipment, to be part of the shareholding of the Spanish company. The transaction will be subject to the usual conditions, including approval by the relevant antitrust authorities.
The Knorr-Bremse's strategy is to invest in the growing market for connectivity while further developing its digitalization expertise in the commercial transportation industry. For this reason, Cojali is the most suitable partner to achieve these goals, because of its solutions, experience and know-how in terms of remote diagnostics and applied data science.
"With Knorr-Bremse, we now have the ideal partner by our side, as well as the Group's extensive network. This cooperation will enable us to further develop our products and services and make them available to an even larger customer base. Together, we are effectively triggering the next stage of Cojali's growth, by sharing our knowledge and working together with Knorr-Bremse's team" adds Venancio Alberca, founder and CEO of Cojali S. L.
Bernd Spies, member of the executive board of Knorr-Bremse AG and responsible for the Commercial Vehicle Systems division: "By acquiring a stake in Cojali, not only are we strengthening our existing aftermarket business by investing in a commercial vehicle-specific software solution that will open up new business opportunities for us in the fields of Big Data and predictive maintenance based on Big Data – we are also continuing our successful growth based on the digitalisation megatrend. I'm very much looking forward to working with the Cojali team."
Using Cojali's diagnostics expertise, workshops and fleet operators can assess the status of vehicle components accurately and quickly, regardless of brand, while also receiving comprehensive assistance with troubleshooting. Among fleet operators of all sizes, there is a growing need to check the condition of specific components and even entire vehicle systems not just while vehicles are parked in a workshop, but while they are on route, so that any necessary repairs can be predicted as early as possible. As part of their collaborative relationship, Knorr-Bremse and Cojali will work on expanding their range of remote diagnostics, connectivity and predictive maintenance with the aim of further enhancing the availability of their customers' fleets, in addition to expanding the component market for commercial vehicle.
Cojali S.L., which has its headsquarter in Campo de Criptana, Spain, is a company with operations in more than 115 countries all over the world. It is already a leading global developer of technological solutions for traditional diagnostics, remote diagnostics, predictive maintenance and telematics, and is also a component manufacturer for commercial vehicle.
The highly profitable technology solutions developer employs around 495 people and is the market leader in Europe for multi-brand diagnostics.
TestFit Announces $20 Million Investment 
TestFit Inc., the maker of interactive AI-powered real estate feasibility software, announced $20 million in Series A financing led by Parkway Venture Capital, bringing the total company financing to $22 million to date. TestFit will use the funding to expand delivery of better outcomes for their customers, made possible by their integration of property management (PropTech), construction planning (ConTech), and design technologies (DesignTech) into a unified enterprise platform for commodity real estate development.
"Pioneers integrated drawings and the model years ago, but the industry has stagnated until recently," says Clifton Harness, co-founder and CEO, TestFit. "TestFit is the first and leading company to connect pro forma, construction cost, and asset design in our building configurator software, de-risking decisions and enabling critical time-savings when developing new commodity real estate. This new funding will enable us to quadruple down on our product and engineering teams—there is so much opportunity in the market, and we want to be there to create even more value for our customers."
"With TestFit, we see a disruptor driving a paradigm shift in the real estate industry," says Gregg Hill, co-founder and managing partner at Parkway VC, and TestFit's newest board member. "Their approach enables teams to kill bad real estate deals quickly. The AI-powered building configurator provides a unique interaction experience, enabling instantaneous control of feasibility studies and pro forma plans. Companies using TestFit's software will have a serious competitive edge over companies that don't."
Real estate development has been booming in recent years, especially for multifamily and light industrial properties. The total output of the multifamily industry in 2022 will be around 300k units; 200k units short of country-wide demand. CBRE estimates that for multifamily properties, 300,000-plus units will be delivered in 2022. At the same time, demand for logistics and warehouse space to serve online shopping has driven the development of local distribution centers and reshoring of inventory. Warehouse demand is expected to exceed 300 million square feet per year for the next three to four years.
Fontaine Heavy-Haul Changes Company Name 
The trailer business previously known as Fontaine Heavy-Haul is now Fontaine Specialized. "In order to meet the evolving and ever challenging needs of our customer base, our product line will continue to expand beyond traditional heavy-haul trailers," explained Todd Anderson, President of Fontaine Specialized. "Over the last several years we have expanded our Xcalibur extendable flatbed and dropdeck models, introduced the Traverse hydraulic tail models, created a new line of Workhorse lowbed models, and added several new Magnitude heavy-haul models. We believe our name should reflect our entire product lineup, and our Dealer network is very supportive of re-branding the business as Fontaine Specialized," Anderson concluded.
"We've heard from many of our most respected dealers, and the feedback for this change is very positive," remarked Heather Gilmer, VP Sales. "The name change in a way is a "Back to the Future" move for our company as we were previously 'Fontaine Specialized' from 1993 to 2009. In fact, many of our seasoned customers continued to refer to our trailers as 'Fontaine Specialized' even under the Heavy-Haul brand. Our tradition of industry leading innovation and unmatched customer support will most certainly continue under the Fontaine Specialized name," she added.
United Rentals Partners With Turner Construction 
United Rentals, Inc. announced it will provide sustainable solutions to Turner Construction that include all-electric trucks and zero-emission power systems. Turner will use the rental equipment for construction of a hyperscale data center in Kansas City, Missouri for Meta, formerly the Facebook company, to reduce the environmental impact of the jobsite.
The equipment package includes the all-electric, zero-emissions Ford F-150 Lightning pickup truck with a range of up to 320 miles and a maximum towing capacity of 10,000 pounds, in addition to a 9.6 kilowatt Pro Power onboard generator system.
"Turner is committed to leading the challenge of decarbonizing construction and working with innovative partners like United Rentals. These solutions allow us to demonstrate how the future of construction will look," said Bill Hassel, Data Center Program Sustainability Manager, Turner Construction. "The ability to test cutting-edge electric vehicles such as the F-150 Lightning on a real-world construction site will provide valuable information on how electrifying construction equipment will help reduce emissions while driving productivity."
United Rentals and Turner share a commitment to reducing the environmental impact of their operations and helping customers reduce their carbon footprint. The partnership will help United Rentals identify other construction projects where emissions-saving solutions can be deployed to work towards net-zero jobsites. This is also part of Meta's efforts to reach net-zero emissions across its value chain in 2030.
"Turner and United Rentals are both committed to building a better future, which was a catalyst for our collaboration to drive eco-conscious changes on construction jobsites," said Craig Schmidt, Vice President of National Accounts, United Rentals. "We look forward to continuing to partner with Turner on innovative, sustainable solutions that contribute to a safer, healthier environment."
United Rentals helps companies in a range of industries to achieve their sustainability goals by creating lower-emission worksites without compromising safety or productivity. The United Rentals fleet includes low- and zero-emissions rental equipment options such as all-electric trucks and compact excavators, and zero-emission battery systems. The company's cloud-based Total Control fleet management system allows customers to monitor emissions and track engine hours to help them manage against their sustainability goals. Total Control also tracks utilization that helps users right-size fleets, which can conserve natural resources. 
National Groups Partner for Engineering, Public Works Projects
The American Council of Engineering Companies (ACEC), American Public Works Association (APWA), and American Society of Civil Engineers (ASCE) announced a nationwide partnership and awareness effort to highlight the meaningful, transformational work of engineers and public works professionals.
America's engineers and public works professionals are responsible for addressing some of society's most pressing challenges. Over the coming months, Infrastructure Works—An Engineering and Public Works Roadshow will focus the public's attention on industry projects that improve climate resiliency, ensure the delivery of clean air and water, promote energy efficiency, and open access to mobility.
The partnership comes at a critical time. According to the ACEC Research Institute, the bipartisan infrastructure bill Congress passed earlier this year is expected to add more than 82,000 full-and part-time jobs in engineering, public works, and design services over the next five years. Finding the professionals to fill these roles is critical now at a time when workforce shortages are already threatening the timely and successful completion of essential construction and design projects across the nation.
The importance of filling the talent pipeline for engineering and public works jobs has been underscored by the Biden Administration's announced summer-long "Talent Pipeline Challenge." The campaign will help amplify this effort with students and future employees by showcasing the dynamic projects engineering and public works professionals design across the country. 
"This partnership brings together three leading organizations representing the engineering and design community and the clients they serve," said ACEC President and CEO Linda Bauer Darr. "This campaign will focus public attention on the fact that engineering is essential to our modern society and demonstrate why policymakers and clients should continue to invest in engineering solutions and students should plan to join the ranks of the nation's best problem solvers…because they are needed now more than ever."
"We have the opportunity to move this nation's infrastructure forward in a positive way that benefits communities for generations to come," said APWA CEO Scott D. Grayson, CAE, "but we need to make sure generations of workers are available to deliver on the promise of the bipartisan Infrastructure Investment and Jobs Act.
"Working in tandem with ASCE and ACEC to keep public officials' focus on workforce development, we will showcase excellent public works, engineering and design projects that are unfolding before our eyes so we can capture the imagination of future workers who will dream bigger dreams and make our neighborhoods more resilient."
"The future of engineering is unbounded," said Tom Smith, ASCE executive director, "and the design profession is front and center in solving the challenges of the day and building a brighter future for communities. This partnership will showcase future-ready engineering projects and innovation, and introduce the public, and particularly our young citizens, to the wonder of engineered systems and infrastructure, as well as the benefits of a creative and rewarding career in engineering and design."
Without more engineers and public works professionals, projects vital for our communities and the economy could be delayed. A recent ACEC Research Institute survey found two-thirds of ACEC member firms expect to increase their backlog of projects over the next year. Right now, the median backlog stands at 11 months with 49% of respondents reporting a backlog of one year or more. 
This industry-wide partnership brings many voices to the table to tackle the workforce shortage. ACEC represents more than 5,000 of America's engineering firms, ASCE represents more than 150,000 members of the civil engineering profession in 177 countries, and APWA represents more than 30,000 public works professionals and is the only organization to represent all facets of public works.
In the coming months, the partnership will hold events across the country that highlight projects that showcase the essential value that engineering and public works delivers for our communities and underline the need to leverage the historic investment opportunity of IIJA and the expansion of workforce opportunities for the next generation of America's engineers and public works professionals.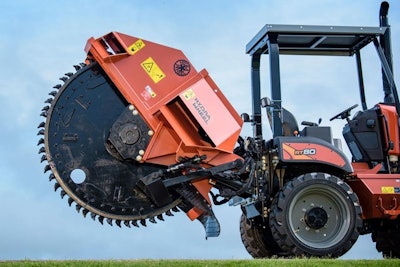 Ditch Witch Acquires HydraWheel Line of Rock Saws
Ditch Witch announced that it has acquired specific assets from River City Manufacturing, Inc., including the HydraWheel design of rock saws. Based out of Bertram, Texas, the company has designed and manufactured rock saws since 1982, earning a strong reputation throughout the industry.
Through this acquisition, Ditch Witch continues to show its commitment to the traditional open-cut utility installation industry. The product line features saws, ranging in depth from 9 to 46 inches, and can be paired with both stand-on skid steers and heavy-duty tractors. As the fiber market continues to drive demand, Ditch Witch is uniquely positioned to meet the needs of contractors around the world.
The rock saws will be manufactured, branded and sold under the Ditch Witch name and are available through the global Ditch Witch dealer network, with nearly 200 locations worldwide.
Terex Announces Investment in Acculon Energy
Genie and Terex Corp. are excited to announce that Terex is making a Series A investment in Acculon Energy, a Columbus, Ohio-based engineering and connectivity company focused on developing the next generation of electrification solutions for non-automotive equipment applications. Since its founding more than 55 years ago, Genie, which is owned by Terex, has been a leader in developing, growing and evolving the aerials industry. Acculon, through its founders, has 13 years of experience operating at the forefront of advanced battery technology solutions. By partnering with Acculon, Genie is reinforcing its role as a leader in the electrification of the industry — now and into the future. "For decades, Genie has been a leader in developing and refining industry-specific technologies to electrify aerial equipment. Now, as the global construction industry gears up to get to the next level of emissions reduction, Genie is excited to be teaming with Acculon," said Simon Meester, Genie President. "Together, we will continue leading the charge toward a greener and cleaner future, while maintaining the focus on the quality, reliability and performance for which Genie is known." Acculon's team has significant experience not only in the research and development of advanced battery technologies, but in artificial intelligence and cloud-connected products as well. The company also has important capabilities in certifying battery-enabled systems. This partnership with Genie and Acculon will build on Genie's position as an industry leader in the electrification of the aerials industry, accelerating the progress on current and future development projects. "We are excited to partner with Genie and Terex, whose names are synonymous with quality and safety. Our partnership will accelerate the delivery of next-generation electrification solutions for Genie equipment and the people who count on that equipment every day," said Acculon's President Andrew Thomas.
Vanguard Partners With Canimex Group
Briggs & Stratton announced its new partnership with Canimex Group (Canimex), a manufacturer and international trader in mechanical, hydraulic, electrical and electronic components and products. Canimex Group is made up of seven business units that include its mechanical and electrical division, which will leverage Vanguard Lithium-ion battery power solutions in applications for a variety of industries through this new partnership.
"As more OEMs look toward electrification, we are pleased to add Canimex Group to our list of impressive battery Technology Partners," said Chris Davison, senior marketing manager — electrification at Briggs & Stratton. "Canimex's manufacturing expertise combined with our cutting-edge battery power technology will help set OEMs up for success as they pursue integrating electrified equipment."
Based in Drummondville, Québec, Canimex is a one-stop shop providing OEMs with engineering and technical support in developing comprehensive and customized solutions and providing design, quality management, packaging, storage, handling, transportation and customs clearance services. Canimex works across a range of industries that include electrification, forestry, construction, agriculture, industrial, mining and snow and ice.
When it comes to selecting and integrating the right components for an optimized electric powertrain, there is a lot for OEMs to consider, which can be challenging and time-consuming. Whether it is for industrial equipment, construction, agricultural machinery or compact urban vehicles, Canimex's electrification team is there to support OEMs as both a partner and solution provider in finding the right components and power source for electrifying equipment, allowing for easy integration.
"There's no question that the future is battery power. As more of our customers pursue electrification, we are excited to be partnering with Vanguard to deliver ruggedly designed, powerfully built battery solutions that our customers can trust to deliver a solid performance," said Dominic Bolduc, technical sales representative at Canimex.
BMS CAT Acquires Highland Construction
BMS CAT is announced the acquisition of Highland Construction. Highland has three operating locations in eastern North Carolina – the main branch is in Fayetteville, with facilities also in Raleigh and Wilmington. This acquisition gives BMS CAT four operating branches covering the state of North Carolina, including Charlotte. Highland has been in business since 1981 and provides residential and commercial services for mitigation and reconstruction.
"BMS CAT is pleased to announce our strategic acquisition of Highland Construction. We have viewed the North Carolina marketplace as a key geography in our company's growth strategy. Kenny Strickland has built a tremendous business over the last 41 years, and we are excited to merge our two rich cultures together as one company. By doing so, we will be able to provide the best restoration and construction services to our combined customers. Highland Construction's commitment to quality is exemplified through their remarkable team of employees," said Tom Head, president and CEO of Blackmon Mooring & BMS CAT.
"Highland's partnership with BMS CAT is an incredible opportunity for our employees, our customers, and the areas we serve. It allows us to take on bigger and more complex projects while maintaining our high-quality standards; It gives our team access to even greater professional opportunities; and, it gives our markets even more support when and where they need it most. It's a very exciting partnership," said Kenny Strickland, former president of Highland Construction.
The announcement is the eighth in a strategic plan of acquisitions to support BMS CAT growth. The company previously acquired North Carolina-based Diamond Restoration, Michigan-based Jarvis Restoration, Pennsylvania-based FireDEX of Pittsburgh, South Carolina-based CATCON, Pennsylvania-based Mellon Certified Restoration and Florida-based Guardian Restoration.
Cummins and Elevāt Partner to Extend OEM IoT Capabilities
Cummins announced that it is integrating its Cummins Connected Diagnostics application with the Elevāt Machine Connect IoT platform. With this collaboration, Cummins engines that are installed in millions of mobile machines will use Elevāt software to provide real-time recommendations regarding the health of the engines while using the Elevāt platform to monitor the machines' maintenance, uptime and use. The major benefit is that many original equipment manufacturers (OEMs) can have their own Internet of Things (IoT) machine monitoring solutions.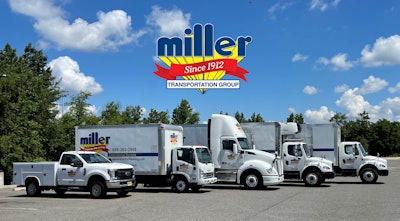 Miller Truck Leasing Expands into NY State
Miller Truck Leasing has acquired the assets and facilities of fellow NationaLease member Leroy Holding, headquartered in Albany, N.Y. The acquisition fits with Miller's strategy to expand its services into selected markets where a strong independent truck lessor and maintenance company can provide a great service alternative.
Miller Truck Leasing has serviced its customer for over 110 years and has grown to provide over 5,000 trucks from 30+ locations.
"We are excited to move into the markets Leroy has served faithfully over their 55-year history and look forward to continuing to be a vital part of our customers' businesses," said Mark Miller.
"Leroy has always been the top service provider in its markets, and we look forward to continuing the tradition of outstanding service that Leroy and its employees have always shown.
Miller is the largest, privately-held commercial truck lease and rental company in the Northeast and Mid-Atlantic and provides the personal touch and service of a family-owned company with the size and scale of a large national truck leasing company.
Miller will offer a full line of rental and lease equipment to service its existing and future customers. Miller will also provide contract maintenance for fleets that desire to outsource their truck maintenance and dedicated trucking and logistics for customers who desire to outsource their transportation.
Miller's shops are equipped with all modern technology and manufacturer software so Miller technicians can diagnose and fix problems immediately, minimizing downtime. The company is well-known in the industry for its outstanding service and customer satisfaction.
Majestic Steel USA Acquires Quicken Steel, Mercury Transport
Majestic Steel USA, Inc., a provider of supply chain solutions and prime flat-rolled steel products across North America, has completed two strategic acquisitions in manufacturing and logistics.
Quicken Steel LLC, a manufacturer of steel buildings and components based in Claxton, Ga., and Mercury Transport Inc., a transportation company based in Pittsburg, Calif., will become wholly-owned divisions of Majestic Steel USA, Inc.
Quicken Steel will continue to operate independently, while using Majestic resources to create synergies. With a niche in providing short lead-times and the quick installation of steel buildings, it's a downstream opportunity that aligns with Majestic's approach to growth and innovation.
The acquisition of Mercury Transport is a follow-on investment to Majestic's 2021 acquisition of Merit Steel USA, a West Coast-based steel service center with locations in Pittsburg, Calif., Fontana, Calif., and Longview, Wash. 
Todd Leebow, president and CEO of Majestic Steel USA, said: "These strategic investments further Majestic's commitment to customer service, supply chain reliability, and innovation in steel. Quicken Steel is an opportunity for us to provide our existing solutions downstream where we believe steel is critical to the future of building. We were attracted to their growth-oriented business model, focus on short customer lead-times, and commitment to sustainability. These acquisitions build on our 2021 investments as we continue to expand our footprint across North America."