Bitfarms (NASDAQ:BITF) is a low-cost Bitcoin (BTC-USD) miner with an extended history of proven execution. The company is conservatively financed and has a moderate, vetted growth plan that will continue to capture share of the total network hash rate. Though it has the lowest valuation among the larger cap miners, it is arguably best of breed.
In a late June article, that can be found here, I covered the strength of Bitfarms' position based on a handful of key considerations. These included:
Makeup of the current and future mining fleet
Direct cost to mine Bitcoin by equipment type
Qualitative factors of the operational set up
Power costs and reliability comparisons
Cost of sales per bitcoin mined
Relative size of administrative expenses
Valuation, adjusted EBITDA, and profitability metrics
Capital and financing expenses and liquidity
In contrast to the prior article, the discussion below is focused on emerging threats and the changes over the last quarter. And note the factors covered will be more Bitfarms' specific as opposed to macro influences such as regulation or interest rate policy. These will include:
Direct costs of production: hash rate trends, Canadian VAT, Argentina gas
Financing: Bitcoin management strategy, liability reduction, Argentina miners
Bitmain S19 XP Threat
Direct Costs of Production
Looking at the energy component, during the second quarter the primary driver to the per coin costs remained the growth in the total network hash rate. Direct power costs per bitcoin were $9,900, up 14% from $8700 in the first quarter. Management explained the dynamic as follows:
12 percentage points from the increase in quarter-over-quarter average network difficulty, which is partially offset by an equivalent of a 3 percentage point decrease from incremental operating efficiency achieved during the quarter, and with 5 percentage points of the increase attributable through the accrual for potential Canadian tax legislation affecting VAT tax rates…

Source: Q2 2022 Results – Earnings Call, seekingalpha.com, 8/15/22
Q2 2022 Direct Costs of $9,900 Compared to Prior Quarters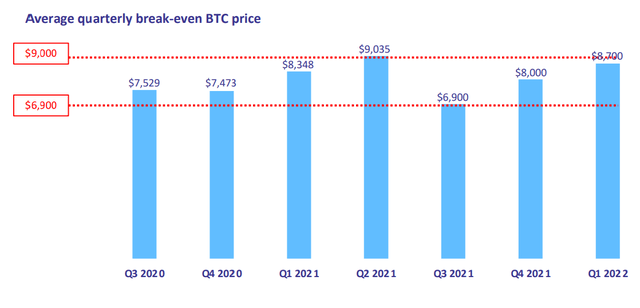 The low costs in Q3 of 2021 shown above are attributable to the crackdown on mining in China and correspond to the trough shown in the total network hash rate graphic below. Also of note in the graphic below, July of this year has seen a reversal in trajectory and pull back in total network hash rate as low efficiency miners have gone offline with the BTC-USD price disruption. For this reason, miners' electrical costs likely won't show another large increase in Q3.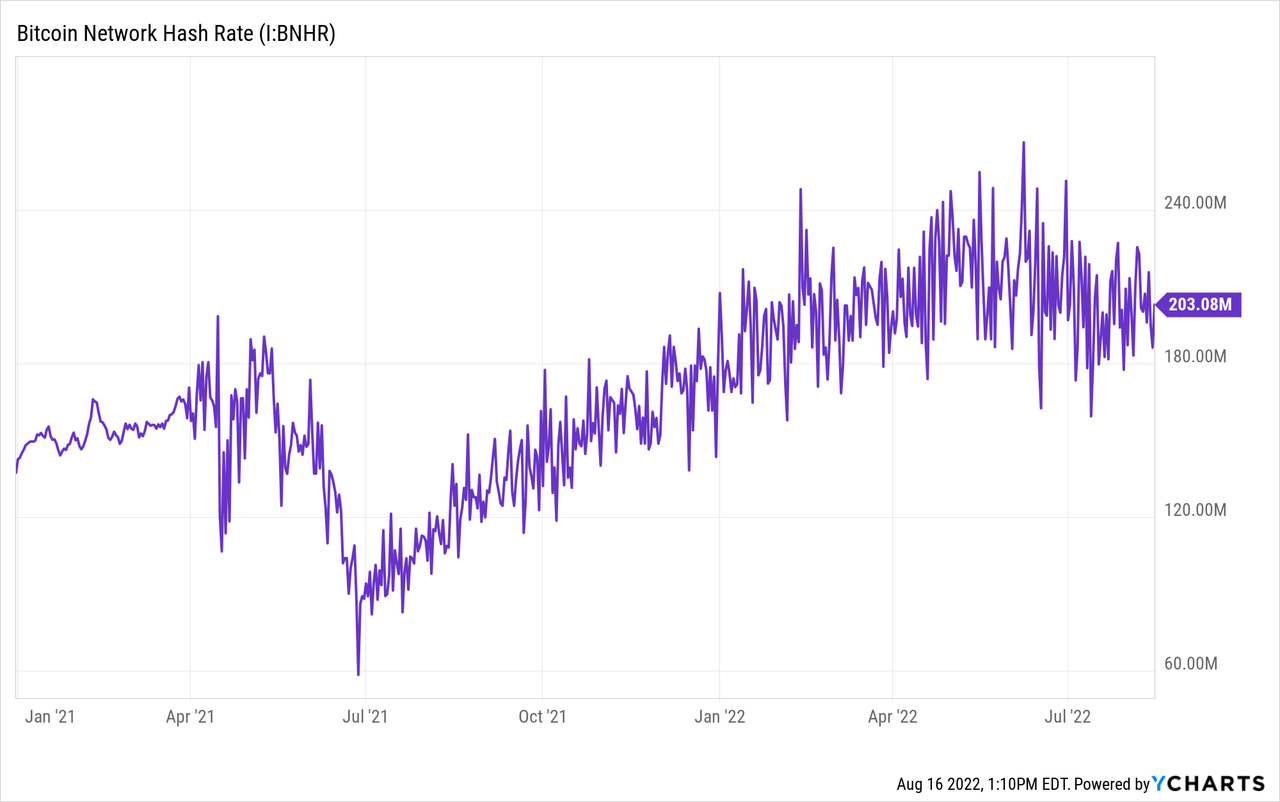 Moving to the five percentage points attributable to the tax accrual, the Canadian Financing Authority may pass legislation that removes the recovery of VAT. Bitfarms' power costs in Canada would go from $0.04 to $0.046 per kWh. Though the legislation is not yet approved, accounting procedures recognize the accrual and it is included in the $9,900 discussed above. For reference, 88% of Bitfarms' current electricity would be affected.
Looking ahead, natural gas prices are driving caution for the Argentina expansion. Only a portion of the power contract is fixed at $0.022 per kWh. There is concern in out-years there could be profitability pressures driven by market pricing. But on balance, foreign exchange moves are benefiting the project and Argentina is partially immune to the price increases during winter months in the northern hemisphere. For now it appears energy costs will be below the company average and mining begins later this year.
Financial
Deleveraging
Bitfarms is moving to a lower risk, lower upside financial strategy. After having bought 1,000 bitcoins earlier in the year at approximately $43,000 each, the company now sold over 3300 coins at an average near $20,000. Going forward the company will likely fund operations and interest expense from current BTC production. This effort is geared toward having lower costs of capital, increased liquidity and somewhat limited dilution. There are opportunity costs from abandoning the HODL stance as BTC-USD may appreciate faster than the costs of capital through other sources of financing.
Commitments Outlook on June 21, 2022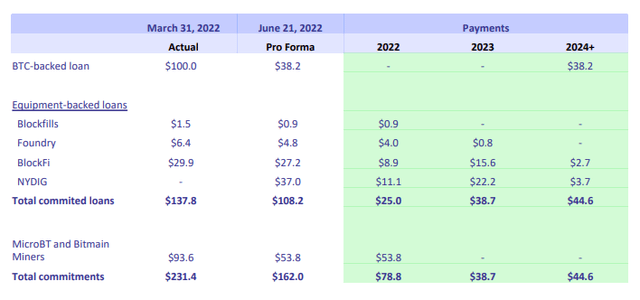 The company is reducing total liabilities and through July took the balance of their Bitcoin backed loan from $100 million to $23 million (top line of graphic above). This will lower interest expense by at least $7 million on a per year basis. The company also renegotiated the timing of miner deliveries to Argentina to better align with the updated buildout schedule. $39 million in capital expense scheduled for Q4 2022 moves to the first nine months of 2023 ("MicroBT" line near bottom of graphic).
Concerning the new mining equipment going to Argentina and costs of capital, analyst Kevin Dede of H.C. Wainwright elicited an interesting point on the recent earnings webcast. Because of lender requirements, it is unlikely that mining rigs located in Latin America could be used to collateralize future financing. This is important because a substantial portion of new equipment will be placed at the Argentina expansion and out-year expansion is being considered in Paraguay. Though it should be noted that there remains addition equipment in the U.S. and Canada that has not been used as collateral. Note for reference the equipment backed loans are the middle section of the graphic above.
Bitmain S19 XP Threat
At the end of July Bitfarms' average joules per terahash measure of efficiency was at 40.6, improved from 49.1 a year ago. For example, MicroBT M30S+ equipment is currently driving increased average efficiency by both replacing older rigs as well as utilizing net new power supply. Note, the M30Ss are in the mid-30s in terms of wattage per terahash. For reference, 1 watt equals 1 joule per second.
The company does have a limited number of Bitmain S19j Pro rigs at the U.S. facility rated about 31 watts per terahash. But for the most part, Bitfarms is looking to stick with MicroBT as the primary supplier. Last year in May they became the first authorized MicroBT service center in Canada. And they have a strong history of performance with the MicroBT equipment in terms of reliability. Looking forward, new equipment contracts in 2023 will likely be for the MicroBT M50S equipment that has a power efficiency of 26 J/TH.
But… a number of Bitfarms' close competitors are just beginning to add Bitmain S19 XP equipment with a power efficiency of 22 J/TH. In a broad generalization, the MicroBT equipment costs less per terahash of computation capacity to initially purchase, but cost more to operate per terahash than a Bitmain product. From my perspective, as both brands have similar ROI due to the combined costs dynamics, the debate is somewhat less important at current Bitcoin prices. But going forward the situation must be closely followed. This is because, depending on the Bitcoin prices, miners with higher efficiency fleets may be better positioned to capture share following the next Bitcoin halving in May of 2024.
Ratings
Despite the 56% run-up in price since my June article, I am maintaining the buy rating on Bitfarms. The is partially because the price of Bitcoin has gained 17% in the interim. As is true with the other miners, Bitfarms' earnings are leveraged to increases in the underlying and valuations based on earnings multiples remain reasonable.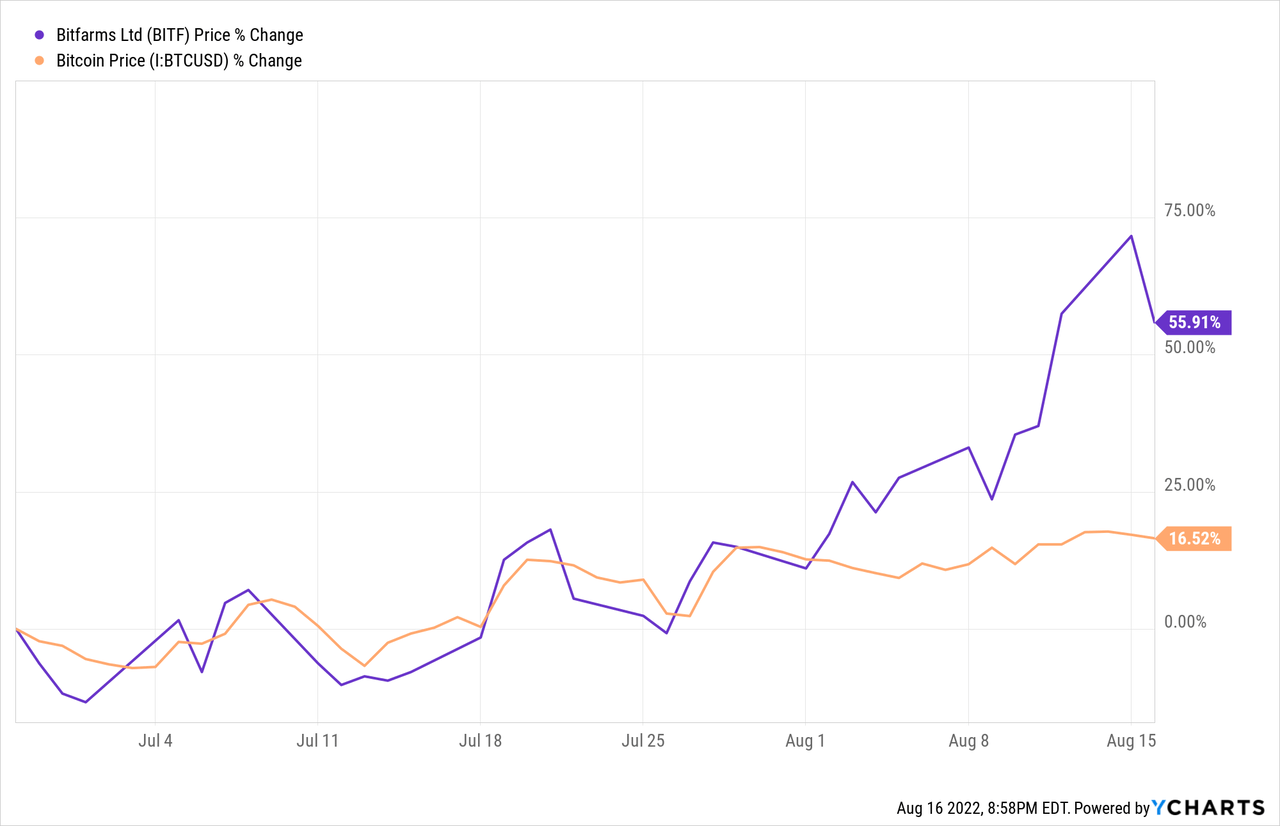 As a secondary point, Bitfarms is still relatively underappreciated from a market cap to operational hash rate perspective. Jointly consider the following two comparisons in the graphics below.
BTC Mined First Half 2022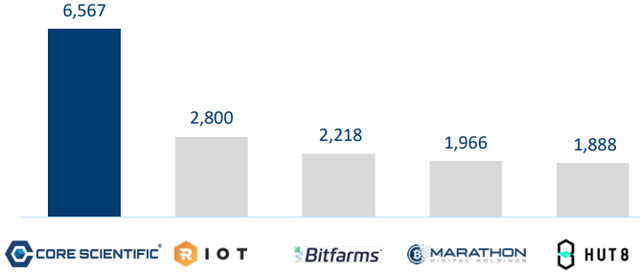 Market Caps 8/16/2022
| | | | | |
| --- | --- | --- | --- | --- |
| CORZ | RIOT | BITF | MARA | HUT |
| $1.09 billion | $1.24 billion | $451 million | $2.06 billion | $693 million |
Source: Author, with data from Seeking Alpha
Admittedly one cannot make these straight apples to oranges comparisons.
Core Scientific (CORZ) has substantially larger, faster growing production; but this is somewhat countered by its meaningfully larger liabilities. (no rating)
Riot Blockchain (RIOT) has similar production to Bitfarms, but a much stronger growth plans over the next two quarters; this is somewhat offset by an unproven costs profile. (rated hold)
Marathon Digital (MARA) has strong growth plans similar to Riot; but their hosted model has high uncertainty from a power supply perspective. (rated hold)
Hut 8 (HUT) has diversified their business with data center acquisitions and non-bitcoin mining equipment; this is somewhat offset by meager Bitcoin mining growth plans and coming disruption from The Merge on the Ethereum platform. (rated buy – under revision)
In comparison to above, Bitfarms has strong, proven execution of actual mined bitcoins. They have high production relative to market cap and a moderate, well vetted plan to grow and capture share though their Argentina expansion. Proven all in costs, not including non-cash items, are about $16,500 per coin. The company has a relatively conservative financial strategy and manageable commitments.
My new marketplace service is coming soon. Complete Crypto Analytics is launching in the near future and will have an in-depth, dedicated Bitcoin miner comparison feature. Please keep reading my articles here for updates so you can reserve your spot as a Legacy Discount Member. There will be a generous introductory price for early subscribers. Thank you for following my work.