When evaluating your options for financing your next equipment purchase, it is worth working with a quality lender. The best equipment financing companies are ones who know your equipment and understand how it works with your business.
In this article…
4 Reasons Why Expertise Matters in Equipment Financing
1. Excellent Customer Service
When you work with Beacon, you'll waste no time explaining what the equipment does or why your business needs it. Instead you can focus on getting what you need with the help of a financing partner. A bank or general lender could maybe get you the funds you need, but the quality of service isn't the same.
When you work with a lender that specializes in both your equipment and your industry, you're able to leverage unique benefits to ensure your business gets the equipment it needs to successfully grow.
Because of our 30+ years of expertise, we make it easy and fast to get equipment when you need it. We understand the value of your equipment and what it means for your business.
To further help businesses get the equipment they need, Beacon partners with equipment vendors, dealers, and manufacturers. Apply with Beacon Funding today and see how you can get exclusive financing on industry-leading equipment.
2. Customized Plans Tailored to Your Business Goals
When the lender you work with has extensive knowledge of the equipment you're looking to finance, they're better able to create a plan that fits into your business model.
Rather than sticking to a traditional structure that banks and general lenders prescribe to, financing consultants can bend the rules to create a completely unique financing plan.
3. Faster Approvals
When you decide it's time to add equipment to your business, you don't want to get stuck waiting months for the funds to come through. With the expertise of a specialized lender, you can count on a streamlined process with fast approvals. You won't have to waste time explaining what your business does and why the equipment is needed.
An experienced lender will already know the basics; you just have to fill them in on what exactly you need out of a financing plan.
4. Wider Credit Windows
Perhaps the most important benefit of working with an industry and equipment expert is their ability to work with start-ups. When you're a start-up, you don't have business pay history yet.
That's where Beacon Funding stands out. We use your personal work history and personal credit profile to get a holisitic view of your business.
By knowing the value of the equipment, the industry standards, and the state of the market, we can provide a wider credit window that allows 7/10 businesses get approved. While a bank may not be willing to take a risk because of their lack of industry knowledge, a specialist won't shy away from lower credit scores or less time in business.
Flexible Plans You May Be Missing Out On
Buy Now, Pay Later – Don't start paying until the equipment has a chance to bring in profits.
Skip Plan – Make no payments during slow months for your seasonal business.
Beacon Funding's Equipment Financing Experts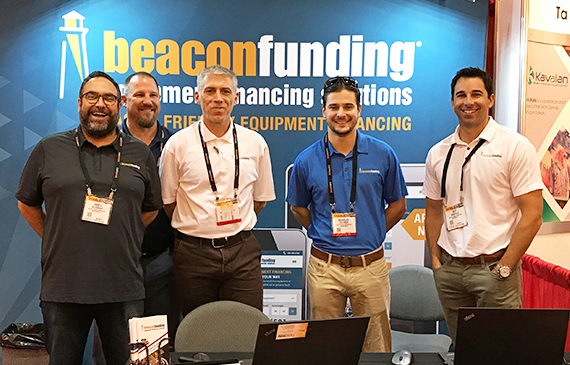 For nearly three decades, Beacon Funding has been dedicated to providing affordable financing plans to businesses looking to acquire the following equipment types:
By focusing on select equipment types, Beacon has been able to develop a thorough understanding of these industries' unique needs.
Steps to Get Started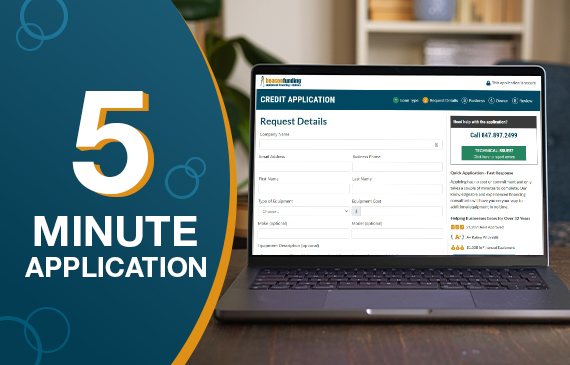 Fill out a 5-minute application. Let us know about you and the equipment you're looking to finance.
We call you. Your Beacon consultant will contact you within 24-48 hours to assist you with your application.
Get approved. If you are approved, you'll receive an approval letter detailing how much you qualify for and the terms. 
eSign your docs. Once we receive your signed paperwork, you'll receive funds in 3-5 business days