Table of Contents
How much does a quality boom truck cost?
When you need equipment to expand your business, buying a boom truck can be an expensive investment. However, without critical equipment, your business is left stuck on the ground.
Saving up the cash takes precious time, and even if you have the cash now there are faster ways to get the truck you need without spending your hard-earned savings. That's where boom truck financing comes into play.
In this article, you'll find tips on how buying a boom truck with equipment financing is more affordable than you might think. Even if you've already got the cash, you'll see how financing your next boom truck could free up cash to invest in other areas of your business.
Let's dive into how equipment financing makes it possible to acquire what you need without having to spend your hard-earned savings.
Boom Truck Price Ranges
Depending on brand, model, and equipment age, a boom truck can typically range anywhere between $30,000 – $130,000. A new 2020 freightliner with new Elliot Bucket can cost as much as $200,000. If you're looking to save some money, a 2015 Ford F-550 with an Altec AT37-G bucket will cost you around $52,000.
That's a lot of upfront cash. Boom truck financing can easily break down that cost into easily affordable monthly payments. Instead of paying $52,000 all at once, you could pay as low as $1,210 – $1,450 a month for the same great truck.
Looking to apply this example to your situation? Enter the cost of your favorite boom truck into our equipment financing calculator.
Why Lease or Finance a Boom Truck?
The #1 reason why businesses fail is lack of cash. Without enough liquidity, a business is at risk of not being able to pay needed expenses or growing. Other reasons why it's important to stay liquid include:
Payroll

Emergencies

Saying yes to more opportunities
Growing your business is hard without enough cash. Fortunately, equipment financing provides options to get a competitive edge.
Even if you already own a fleet of boom trucks, you will eventually need to upgrade or add more to increase your output. When that time arrives, having enough cash is vital for keeping your business healthy.
Benefits of Leasing Your Next Boom Truck
To sum it up, equipment financing breaks the cost of your boom truck into easy-to-manage payments. That way, you'll have enough cash to grow your business.
Financial calculators are great tools to quickly see how affordable your next boom truck can be. That way, you'll know exactly what you're getting into before speaking to a financing consultant.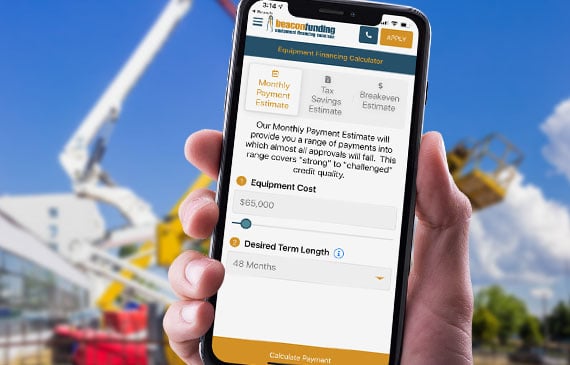 You can discover your boom truck's low monthly payment in just three easy steps:
Enter the estimated cost of your boom truck

Enter your lease terms and length – either 36, 48, or 60 months

Press "Calculate"
Pretty easy, isn't it? See how much your boom truck's monthly payment could be with Beacon's mobile app.
Try Opting For A Used Boom Truck
If you're looking for an affordable option, then leasing a used boom truck sounds like the right option for you.
Leasing a used boom truck may allow your business to see profits faster by cutting down on your purchasing costs. With a used boom truck, you're ready to tackle the toughest jobs without spending a premium price for it.
Used Equipment Network
Tired of spending too much time with classifieds or online listings? Beacon Funding's Used Equipment Network gives you access to thousands of commercial equipment providers.
Click here to fill out the inquiry form with details about the equipment you're looking for.
Beacon Funding talks to over 1,500 businesses a day, which makes your boom truck search easier. In just a single phone call, you'll have access to the most-in-demand manufacturers, dealerships, and equipment vendors in the United States.
Don't want to spend your cash on a used boom truck? Even better, you can lease a used boom truck that provides the best flexibility and term length that works best for your needs.
Equip-Used.com
Let's face it – good-quality used boom trucks aren't easy to find in 2021. Even tougher is getting an affordable used one. At Equip-Used.com, they find and sell used boom trucks at low asking prices.
They update their inventory every week, so be sure to sign up for their emails so you'll receive their newest offerings directly in your inbox.
Since 1990, Beacon Funding has helped business owners acquire ownership of needed boom trucks.
Before you start shopping, get pre-approved for the boom truck you want. Getting pre-approved requires no cost or commitment. Plus, it helps you asses your monthly payment so can comfortably stay within your budget.
Beacon Funding has financed over $1 billion in equipment while helping businesses of every size grow for over 31 years. As an A+ rated Better Business Bureau lender, Beacon Funding's experienced financing consultants can help you get the boom truck you need in no time.
Apply with us today – you'll see why thousands of businesses chose us to make their dreams a reality.