Are you considering a truck purchase but not sure if you're ready to expand or update your fleet?
If so, Beacon's tow truck financing options are the way to go. We work with tow providers to help find a program that helps them reach their goals while staying within their budget.
See some of our frequently asked questions below and/or reach out to one of our financing consultants to get your questions answered too.
1. When Can I Afford Another Truck?
Truck shopping should start with a payment estimate. Often, roadside service providers don't know if they can afford an additional truck.
If you want to take on more service calls, tow truck financing can help you expand as early as today! Start by getting a low monthly payment estimate.
Visit our Finance Calculator or download the Equipment Leasing Calculator at the App store. It only takes a few minutes to realize how affordable expansion really is.
2. How Can I Say Yes to More Calls?
More calls means more business, but also more trucks. Are you looking to service more vehicles?
If so, make sure you have the fleet necessary to serve your coverage area. Truck financing can be the quickest and easiest way to expand a truck fleet.
Give Beacon Funding a call and we will get your additional truck(s) approved and funded in no time.
3. I Have Too Many Truck Repair Bills… Now What?
It may be time to finance a new truck. Equipment issues can cause you to reject calls or have unacceptable ETA's.
When this happens, remember obtaining a new replacement truck is easier than you may think. From application to funding, Beacon Funding's entire truck financing process can happen in days.
4. How Do I Expand My Call Coverage Area?
Add trucks to your fleet. Expanding your roadside service territory requires enough trucks to cover the larger area. Beacon Funding can be a crucial resource to help you get more trucks quickly.
Get your financing in as soon as 24 hours.
5. How Do I Get a Truck as a Start-Up?
Work with a company with a history of approving start-ups. For years, Beacon Funding has specialized in providing start-up businesses the capital they need to acquire their initial trucks.
Let us help you build your business credit today to expand your business faster in the future.
6. Does Working with Allstate Improve My Approval Chances?
Leverage your current Allstate activity. Did you know service providers who conduct the most calls probably have a better chance of being approved for truck financing?
Beacon considers it a significant credit enhancement when a service provider performs a meaningful amount of dispatch activity with Allstate when evaluating a truck financing application.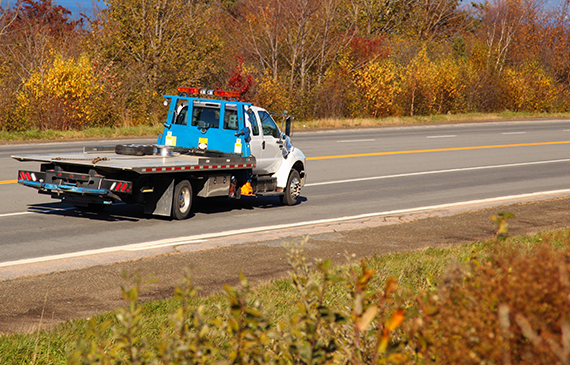 The longer you've worked with Allstate, the more calls you take, the better chance they have at being approved for financing on their next truck.
7. I'm Starting a Recovery Business – What Mistakes Should I Avoid?
Keep your cash and finance a new truck. Small businesses like to cash in their bank account for running their business, fixing their trucks, paying for insurance, and meeting payroll.
Not leveraging financing can hold a small business back from expanding faster. Beacon's equipment financing programs allow providers to keep their cash AND get their next truck.
Beacon's no money down truck financing programs can be a brilliant way for a service provider to grow their business.
8. Can You Finance a Used Tow Truck?
Yes, Beacon Funding finances used equipment. If you don't want to spend too much on a new truck, a used truck could offer a quality alternative at a lower price.
One of Beacon Funding's strengths is its ability to help business owners acquire used trucks. We offer multiple programs with no age restrictions and mileage flexibility. Ask us about financing your next used truck!
9. Can I Finance a Truck Being Sold by a Friend?
Yes, Beacon Funding can help with a third-party sale too. The towing industry is a close-knit community.
Know someone selling a truck you want to buy? Beacon can help if you're looking to acquire your next truck from a friend or local tower too.
Fill out our online application and Beacon Funding can help you with truck financing.
10. Where Can I Find My Next Truck?
Call Beacon Funding to help your search. We work with all the industry's top tow truck dealerships.
If you're looking for a truck, talk to one of our financing experts. They are constantly working with a network of thousands of towing businesses across the country. Ask them how they can assist you with buying and selling your trucks.
No matter how simple or complex your situation is, you can depend on Beacon Funding to get the tow truck funding you need. We believe in small businesses and are committed to making quality equipment more affordable for the people who run them.
If you have questions about financing, contact Stephanie Richards at 847-897-2735.