Table of Contents
Adding a pumper truck can be a great opportunity for your business.
During stay-at-home orders in early 2020, the septic industry was booming with the sudden increase for home calls. Even though people are no longer asked to remain in their homes for safety reasons, the effects of new work-from-home work culture still brings the potential for septic pumpers to be in need.
But getting a pumper truck can be a costly investment – even if you have enough cash to buy one.
How much does a quality septic pumper truck cost?
Let's take a look at how equipment financing works to make it easier to get a septic pumper truck without risking too much of your own cash.
Septic Pumper Truck Price Ranges
Your next septic pumper truck might have different purchasing prices depending on the brand, model, and equipment age. Pumper trucks can range anywhere between $50,000 (ex: a new 2010 Freightliner M2 with a 2,500-gallon tank) or $225,000 (ex: a new 2022 Western Star 4900SB with a 5,000-gallon tank).
Even if you went with the Freightliner, $50,000 is a lot of cash to spend on a single purchase. If your business is like most, keeping more cash in your business is key!
Equipment financing helps break down the cost into manageable monthly payments allowing you to keep more cash in your business. For example, the same $50,000 truck could be financed for as low as $918 a month.
Why Finance or Lease a Septic Pumper Truck?
Cash flow is a good gauge of how healthy your business is. Without enough cash flowing in, it might take a long time to recoup the cash you spent on a new septic pumper truck.
Plus, spending your cash could hamper your business's ability to invest in other strategic areas that can grow your business. 
Equipment financing is a cost-effective way to conserve cash to say yes to more opportunities and survive incidentals.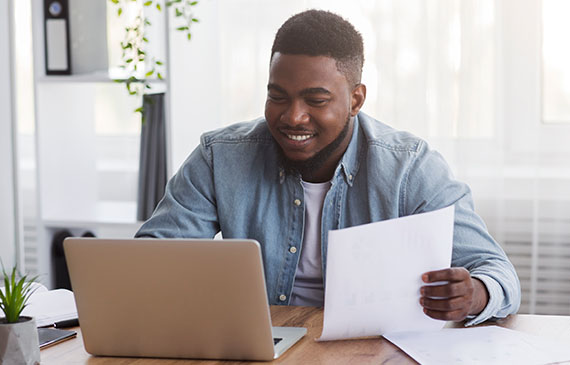 Benefits of Leasing Your Next Boom Truck
How to Estimate Your Septic Pumper Truck's Financing Payments
Want to see how affordable your next septic pumper truck can be? Using an equipment financing calculator can be a great way to quickly see how affordable your septic pumper truck can be.
Calculating your financing costs is as simple as three easy steps. All you have to do is enter the cost of your favorite septic pumper truck into our FREE equipment financing calculator.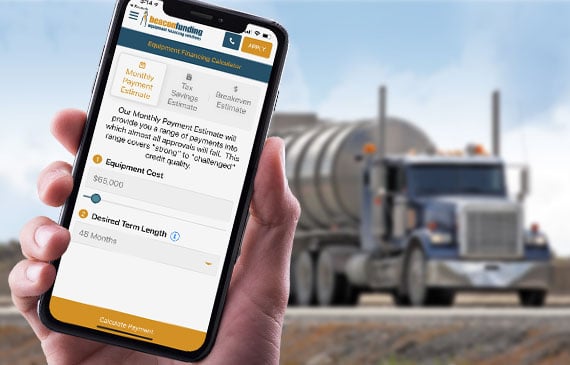 Enter the estimated cost of your septic pumper truck.

Enter your lease terms and length – either 36, 48, or 60 months.

Press "calculate"
You can even take it with you on the go by downloading Beacon's mobile app to see how much your septic pumper truck's monthly payment can be.
Try Choosing A Used Boom Truck to Keep Costs Low
Leasing a used boom truck could be a great option for budget-conscience buyers.
Leasing a used septic pumper truck may allow your business to see profits faster without spending a premium price on it. Lenders, like Beacon Funding, make it easy to lease used equipment at a term length that works best for your needs.
Resources for Finding Used Boom Trucks
Equip-Used.com
At Equip-Used.com, they can help you find and sell used septic pumper trucks at low asking prices.
They update their inventory every week, so be sure to sign up for their emails so you'll receive their newest offerings directly in your inbox.
Used Equipment Network
Beacon Funding's Used Equipment Network gives you access to thousands of commercial equipment providers. In just a single phone call, you'll have access to the most-in-demand manufacturers, dealerships, and equipment vendors in the United States.
Beacon Funding talks to over 1,500 businesses a day, which makes your boom truck search easier. Click here to fill out the inquiry form with details about the equipment you're looking for.
Get Pre-Approved for your Next Septic Pumper Truck with Beacon Funding
Before you even start shopping, you can get pre-approved for a septic pumper truck. A pre-approval requires no commitment and doesn't cost you anything. Plus, it will help you assess your monthly payment so you can comfortably stay within your budget.
Since 1990, Beacon Funding has helped business owners acquire ownership of needed septic pumper trucks.
Beacon Funding has financed over $1 billion in equipment while helping businesses of every size grow. As an A+ rated Better Business Bureau lender, Beacon Funding's experienced financing consultants can help you get the pumper truck in a fast and easy way.
Apply with us today – you'll see why thousands of businesses chose us to shine a light on their equipment financing.