Screen printing is an extremely competitive industry. Beating out your competition is not easy. Buying the right screen printer at the right price? Even harder.
Success is constantly making a solid return on your investment. Even if you've grown your business for a few years, you know you'll eventually need to upgrade your shop to beat the competition.
How Much Does a Good Screen Printer Cost?
Buying a new screen printer can be a large expense for your business. If you've already got the cash, here's what you need to consider before buying your next screen printer. 
Price Ranges
Depending on brand, model, and equipment age, a screen printer can range between $14,000 – $100,000.
That's a lot of cash to spend. However, financing it can easily break down that cost and offers more benefits than paying for cash. Try the monthly payment calculator to see how low your payment could be.
Why Lease Or Finance A Screen Printer?
Even if you already own multiple screen-printing machines, you will eventually need to upgrade or add more machines to increase your output. When the times comes, saving your cash is vital for your business's health. After all, the #1 reason why businesses fail is lack of cash.
You might need your savings for:
Emergencies

Payroll

Saying yes to more opportunities
Growing your business is hard without cash. Luckily, equipment financing provides options to get ahead.
Benefits of Leasing Your Next Screen Printer
Lower the upfront costs of buying equipment.

Establish business credit while protecting your personal assets.

Get a significant income tax write-off for getting business equipment.
So, what's the takeaway? Because equipment financing breaks the costs of your new screen printer into manageable payments, your machine can pay for itself over time while earning revenue.
How to Estimate Your Screen Printer's Financing Payments
Financial calculators are helpful to quickly see how affordable your next screen printer can be. You'll know exactly what you're getting into before you even speak to your financing consultant.
Find out your monthly payment in three easy steps:
Enter the cost of your screen printer

Enter your lease terms and length – either 36, 48, or 60 months

Press "Calculate"
See how much your screen printer's monthly leasing payment could be with Beacon's mobile app.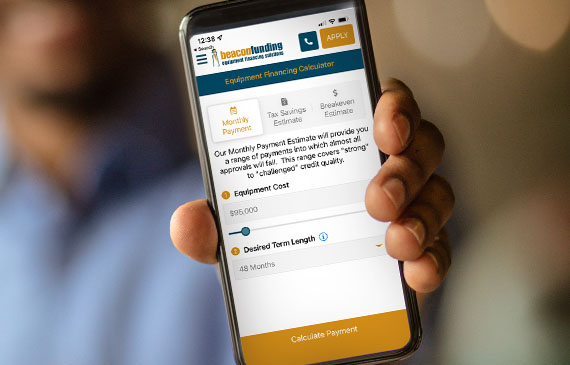 Looking to Save Even More on Equipment Costs? Choose a Used Screen Printer
If you're looking for a more affordable option, then leasing a used screen printer might be the right choice for you. Leasing a used screen printer may allow your business to see profits much quicker with a used machine that's seasoned to take on your toughest jobs!
Used Equipment Network
Tired of wasting time with online listings and classifieds? Beacon Funding's Used Equipment Network gives you access to thousands of commercial equipment providers just a phone call away. You have access to the most-in-demand manufacturers, dealerships, and equipment vendors in the United States.
Because we talk to over 1,500 businesses a day, you can immediately leverage all our connections in the screen-printing industry. Your search for the right screen printer is made easier with a financing dedicated consultant helping you get results.
Click here to fill out the inquiry form with details about the equipment you're looking for.
Equip-Used.com
Let's face it – used screen printers are becoming harder to come by. But at Equip-Used.com, you can easily find a quality screen printer at low asking prices.
They update their inventory every week, so be sure to sign up for their emails so you'll receive their newest offering directly to your inbox.
Finance Your Screen Printer with Beacon Funding
Growing your screen-printing business isn't easy. Fortunately, you have options to make it easier.
As an A+ rated Better Business Bureau lender, our experienced financing consultants can have you with a screen printer that's right for you in no time. We've financed over $1 billion in equipment, providing quality customer service to businesses of every size.
See why thousands of businesses chose us to make their equipment dreams a reality – apply with us today.