Businesses tend to make hasty decisions when under a time crunch. A lack of research before an expensive equipment purchase can not only cause you to lose out on the best option, but it can also cost you time and money! That's why 81% of shoppers conduct research before making a purchase they'll regret.
But if you know ahead of time the most common equipment financing mistakes to avoid, then you can stay ahead of the curve and save yourself many headaches.
Common mistakes of financing equipment…
Not Considering Options Besides Your Bank
Many businesses tend to use their personal banks to finance their equipment. While it may seem convenient, the fact is you may be overlooking alternative lenders with better approval ratings.
While banks approve roughly a third of applications, choosing a private established lender increases your chances of getting approved from 30% up to 70%.
Equipment financing can come from several sources, including banks, finance companies, credit unions, and equipment dealers or manufacturers. By exploring all your available options, you can secure better financing terms and conditions that match your business goals.
Where can you find the best equipment financing for you?
Additionally, you may be missing out on better terms and conditions from Beacon Funding's team of equipment experts who get to know your business needs. Feel confident about your next equipment purchase by chatting with a friendly financing expert today. You can receive a flexible payment plan custom-tailored to you.  Schedule a call to explore all your options within 15 minutes!
Not Knowing Your Lender
Remember, financing equipment is a serious investment. You are entering a long-term relationship with a lender – so finding a lender who prioritizes your goals is important.
Learn more about your potential financing lender
If you're considering potential lenders, here are some ways you can learn more about them:
Entering With Unrealistic Expectations
Have you ever been disappointed with a result only to realize that your expectations were too high? Businesses experience this often when applying for equipment financing as well! Disclosing your expectations and credit information can be a huge advantage.
Can I lower my financing cost?
Credit and financing are directly related. The lower your credit risk, the lower your financing cost.
To give you the best chance of lowering your financing cost, you can strengthen your credit profile. Applicants with poor credit history often do not qualify for the lowest cost of financing.
Before applying for financing, take some time and familiarize yourself with your personal credit score and 3 things to disclose to your potential lender during an approval process. By understanding your credit strength, you can get a reasonable expectation for your financing.
How do you check your credit score?
Sites like Annual Credit Report or Credit Karma are reputable sites to get a report on your credit history.
If there are any errors in your credit report, try to correct them before applying for equipment financing.
By knowing your credit score, you'll know what lenders will be looking at.
Regardless of your credit score, it's in your best interest to find a lender that looks at other factors so they can determine the real value of your business.
Using Rate-Tunnel Vision
Avoid rate tunnel vision when looking for financing options. Meaning, choose the financing that best fits your company. Focus on if they payment is affordable, profitable as well as the overall cost of the deal.
Companies often approach financing with the singular question, 'What's your rate?' With the concept that "the lower the rate the 'better' or 'cheaper' the financing." Sadly, it isn't quite that simple.
Instead ask yourself, "What are our goals as a company?" Make a list and prioritize them from most important to least.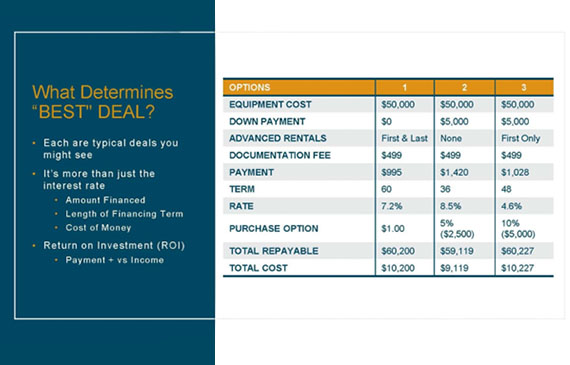 That deal is the cheapest, but which deal is, "The Best?" Let's think about those 3 examples in the graphic above.
The Startup that needs a monthly payment that will fit into their budget. They will probably gravitate toward options 1 or 3.

The growing business who needs to minimize the upfront costs will probably want option 1 that only requires 2 advanced payments and the doc fee.

The well-established business that wants to maximize their profit margins over time, will look for the deal with the lowest total repayable.
Not Balancing Cost and Cash Flow
Most equipment buyers don't want to pay too much, but they also want a low monthly payment. If you select a term that is too short, you save money but at a great sacrifice to your cash flow. The key is to find the proper balance that satisfies your business cost and cash flow requirements.
You never know what unforeseen events are around the corner that can affect your business significantly. Unfortunately, many companies experienced this last year with the 2020 pandemic. That's why it is so important to conserve cash and bank lines with equipment leasing and financing.
If you're looking to keep costs low, try a step payment plan:
Pay less upfront, and then payments increase once cash flow starts coming in.

Keeps initial equipment payments low as your business grows.
Step payments are an excellent equipment financing option to help young businesses who are looking to expand. Business owners have time to ramp up demand and don't have to worry about generating profits right away.
Not Getting Your Agreement in Writing
There are many variables and conditions in your standard equipment financing contract. Don't cut corners by choosing a lender based on a verbal agreement.
Make sure your potential lender provides you with a written financing proposal that, at a minimum, provides you with all your-in initial cash requirements, monthly payments, term, and end-of-term obligations.
Be sure to also require your lender to clarify who will be sending you monthly invoices. Finally, read your equipment financing documentation to avoid potential surprises.
Not Determining What You Can Comfortably Afford
Many business owners make the mistake of adding equipment at a price they can't comfortably afford. Keep expenses low and your net profit high by financing your next equipment purchase.
Using our free Breakeven Calculator – you'll be able to see your monthly payment and how many jobs you need to perform to cover your financing costs!
People take a long time looking at what they will be able to pay over the next few decades when looking for a home mortgage.
Before buying equipment, consider how much money you can put down.
Find the Right Lender for Your Business
At Beacon Funding, we understand every business is unique. Not one size fits all. Set your small business up for success with a fast and easy application – it takes less than 15 minutes to apply online.
Unlike traditional lenders, we invest energy and time into understanding your business goals. When you work with one of our expert financing consultants, you'll receive help to craft a lease payment plan that fits your company's needs.